FMCs for networking, A/D & D/A, RF and specialty FPGAs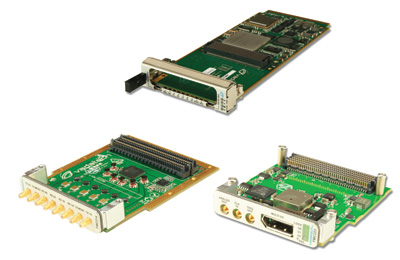 The FMC (FPGA Mezzanine Card) is popular in embedded systems because of its versatility and scalability. VadaTech offers three types of FMCs – Networking, A/D and D/A converters, and RF modules. The company also offers the full Xilinx® suite of all-programmable FPGAs, including Zynq-7000, Virtex-7, Kintex-7, and Artix-7. Several Altera® FPGAs are also available including a 100G FPGA.
VadaTech provides high performance ADC and DAC products in the FMC format per VITA 57 with speeds up to 5.7 GSPS (12-bit). Several digitizers are also available in the AMC format in both the standard MicroTCA.0 and rear IO versions for MicroTCA.4.
Latest FMC products
FMC226 – Dual ADC, 12-bit @ 4.0 GSPS
FMC225 – ADC 12-bit @ 4.0 GSPS, DAC 12-bit @ 5.7 GSPS
FMC214 – Dual Wideband Transceiver, 70 MHz to 6 GHz
MicroTCA/AMC
AMC523 – Ten Channel ADC 16-bit @ 125 MSPS, Dual DAC 16-bit @ 250 MSPS
AMC525 – Dual FMC Carrier, Virtex-7 with P2040 PowerPC
AMC526 – Dual ADC, 12-bit @ 2.5 GSPS, Virtex-7
AMC529 – Dual DAC, 14-bit @ 5.7 GSPS, Virtex-7
AMC51x – Full suite of Xilinx FPGA Carriers from Artix-7 to Virtex-7
AdvancedTCA
ATC133 – 10G ATCA Carrier for AMCs, Virtex-7 FPGA
ATC136 – 8 channel ADC, 10-bit @ 2.6 GSPS, Virtex-7
VPX
VPX514 – FMC Carrier, Virtex-6 FPGA
Come to VadaTech for the most advanced FMC and FPGA designs that re-define performance density. For more information on VadaTech's FPGAs and FMC products, visit www.vadatech.com today!