MIL-STD-1553 Repeaters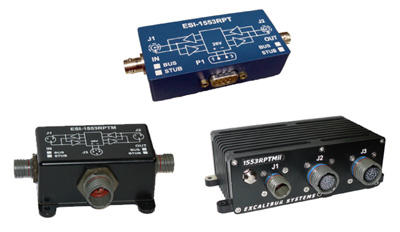 Excalibur Systems offers three versions of MIL-STD-1553 Repeaters:
ESI-1553RPT-x – standard commercial 1553 repeater
ESI-1553RPTM-x – rugged version with MIL-38999 circular connectors
ESI-1553RPTMil-x – designed for airborne and harsh environments
Each version may be purchased to either:
Extend the existing length of the bus
Extend the existing length of the stub
Connect a number of devices to a single stub
Two Stub outputs that need to be connected together or Bus A Stub output that needs to be connected to Bus B Stub output for temporary diagnostic tests
The Repeater box was implemented using simple signal detection and switching techniques to minimize the delay through the device. Delay through the unit is in the range of 700 nsec. to 900 nsec. maximum. Standard MIL-STD-1553 transceivers and digital signal processing are utilized to steer and shape the received signals, and retransmit them in the correct direction. Each of the two connections [J1 and J2] is bi-directional. A signal received at either connector will enable the signal to flow through towards the other connector.
Contact Excalibur Systems Inc. for more information at www.mil-1553.com