Rugged 19″ Modular Storage System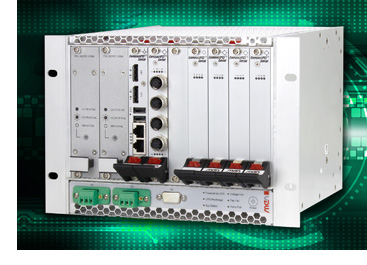 MEN Micro has expanded its modular, built-to-order systems with the MH70S designed for storage applications.
The CompactPCI Serial platform, which offers a capacity of up to 20 TB, is a pre-configured system for storage intensive applications such as digital video recorders, content servers or NAS. Its robust, compact design makes the storage PC ideal for use in trains, buses and industrial environments.
MEN Micro's MH70S is a half 19-inch modular system with up to five HDD/SSD slot cards, totaling 20 TB. This makes the system a real storage giant. For robust and safe operation, the HDD carriers can be configured in RAID 0, 1 or 5, while the carriers themselves have their own internal RAID 0, 1 and JBOD hardware configuration abilities.
The system is based on a high-performance Intel Core i7 processor supporting Intel AMT functionality and featuring two Gigabit Ethernet interfaces. An optional TPM provides additional data safety, so it can be used for services such as pay-per-view. Built-in Intel vPro functionality enables remote administration.
An optional shelf controller complements the MH70S' self-control and self-monitoring capabilities provided by the CPU's board management controller. It manages lifetime information about critical components, such as the shelf fans and power supplies, and can be used for manual shutdown.
The MH70S offers two PSU slots for AC or DC to ensure system reliability and redundancy.
The new storage box PC offers a wealth of individual configuration options for data storage and processing power. Its high flexibility and complete software support for all usable storages and interface components save costs, while ensuring fast time-to-market.